If you have always wanted straight teeth, without having metal braces then Invisalign transparent, removable aligners may be the solution for you.
Invisalign treatment consists of a series of almost Invisible, Removable aligners
You wear each set of aligners for 2 weeks, only removing them to eat, drink, brush and floss.
Each set of aligners is individually made for your teeth and as you progress through your sets of aligners your teeth will move little by little until they reach their final destination prescribed by Dr Saul Mendelsohn.
In the beginning you will visit us every two weeks, then as it progresses you will visit us every 6 weeks, for a check up on your progress
Total treatment time on average is between 9-15 months, but this varies from case to case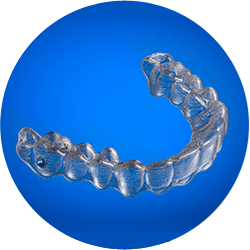 Invisalign Dental Package
At Mendelsohn Dental on Royal we are focused on all aspects of your dental care and as part of the Invisalign package we include regular cleans and at the end of your treatment a complimentary professional Teeth Whitening.
If you are interested in Invisalign and would like to know if it is suitable for you give us a call on 9225 6564 and book an appointment to see Dr Mendelsohn and he can go through the options that will best suit your needs.
We can organise a payment plan to help make Invisalign a more affordable option for you, call today to book your appointment (08) 9225 6564