Crowns and Bridges area a great way of improving the strength and function of your existing teeth.
Whether you have old amalgam fillings that need replacing or weak teeth that need to be made strong again, crowns can improve the appearance and restore the strength to your teeth.
Traditionally crowns were a two appointment process where a temporary crown was put on the tooth and you needed to return two weeks later for the proper crown. At Mendelsohn Dental on Royal we now have the most sophisticated computer aided design and manufacturing process in the world which means in most cases, multiple appointments and temporary crowns are a thing of the past.
The future of dentistry is NOW, with the very latest CEREC technology straight out of Germany.
We can make precise, beautiful and strong crowns all while you wait. No more taking time off for multiple appointments, get it all done while you wait!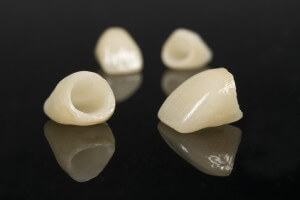 A Crown (commonly called a "cap") is a precisely made restoration usually made from porcelain or metal. The existing tooth is prepared and shaped then the Crown is placed over the top. This gives the crown tooth strength, durability and a great appearance.Crowns are often used to strengthen weak teeth or teeth with very large fillings but can also be used to improve the appearance of a tooth by changing the colour, position or shape.
For more information on how we do a Crown in one appointment click the following link which has a video and some more information.
A bridge is similar to a Crown but used to replace missing teeth. Dental bridges are a fantastic options to replace one, two or even more teeth next to each other. Unlike an implant, which is free standing, Bridges are attached to the teeth on either side of the gap.

To discuss the options for your individual case or to learn more about which option is best for you, call Mendelsohn Dental, dentist in East Perth and make an appointment.
Experience cutting edge dentistry and quality care. Contact our East Perth office to make an appointment with Dr. Saul Mendelsohn and be on your way to having the smile you've always dreamt of. Located in East Perth, we serve patients from Subiaco, Floreat, Nedlands, City Beach, Perth CBD, and all over the metro.