You don't have to be born with a Beautiful Smile to Have one.
Although most people understand the importance of a good smile, only half think that their smile is good.  If you answer yes to any of the following questions then cosmetic Dentistry at Mendelsohn Dental on Royal can help you
Do you cover your mouth when you talk, laugh or smile?
When someone takes you photo do you shut your lips?
Do you avoid bright lip stick as you don't want your teeth to stand out?
Do you feel self conscious of your smile?
So how can we help you have a Beautiful smile ?
There are a variety of options depending on the desired outcome
1. Teeth Whitening –Discoloured teeth are one of the biggest complaint we have in our surgery.  We offer in chair whitening done by our Dentist or Hygienist.  It takes around 60 minutes and only costs $550 (before any health fund benefits).  We also make you personalised trays to administer take home whitening gel to continue the whitening at home.  If caffeine, red wine and cigarettes continue to cause you staining you can use you personalised trays 6 months later to rebrighten your smile.

2. Porcelain Veneers-Veneers are ideal for creating a perfect smile, especially in cases on small oddly shaped, spaced or discoloured teeth.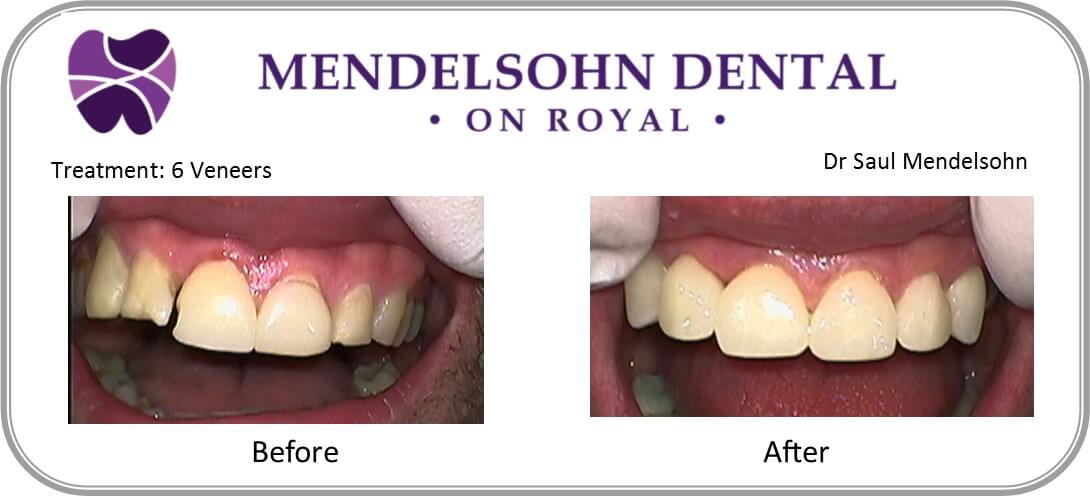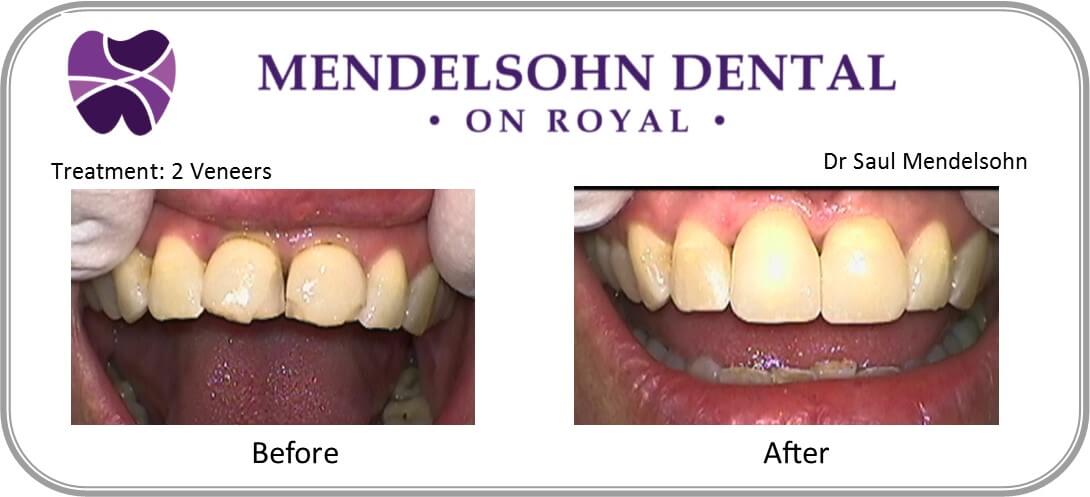 3. Crowns– We offer state of the art technology with CEREC omni cam and milling.  Which for you means no messy impressions and everything done in one appointment, which means less needles and no temporary teeth. have a look at our website for more info http://www.mendelsohndental.com.au/treatments/computer-designed-restorations-cerec/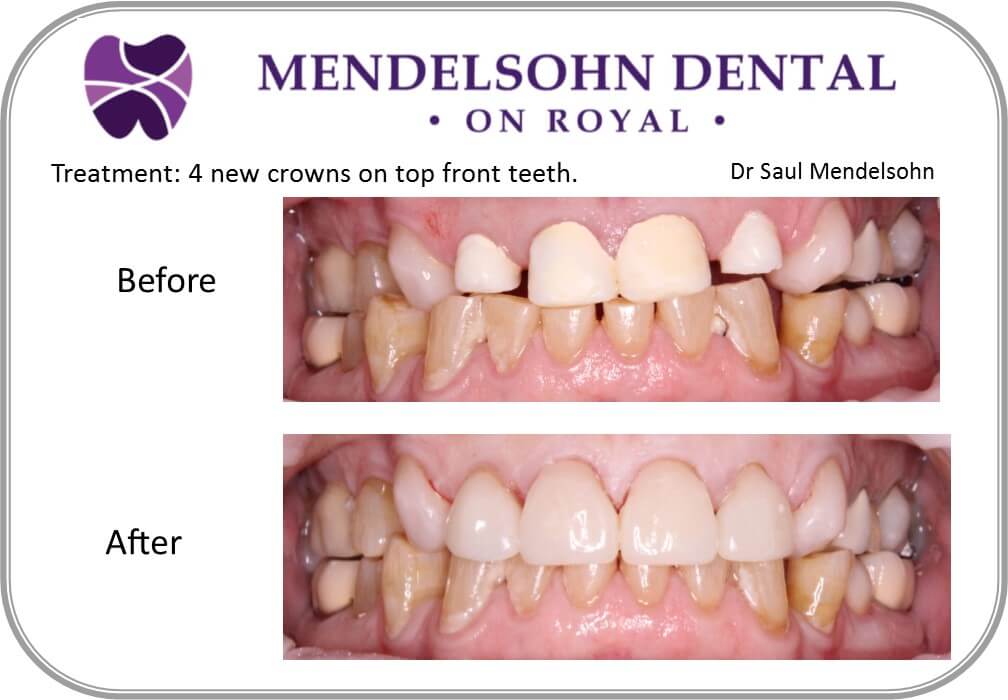 4. Facial Injectable-once you have the smile of your dreams, we can also reduce the lines on you face and plump up your lips.  Wrinkle relaxers reduce the visible lines on the face and it is a quick and painless procedure.  The results take up to 2 weeks to be visible but then can last anywhere from 3 – 12 months (depending on the area and each person responds slightly differently).  Fillers and be used to give you fuller and plumper lips, this procedure can be a little uncomfortable but as Dr Mendelsohn is a Dentist he is able to administer local anaesthetic which makes it a lot more comfortable.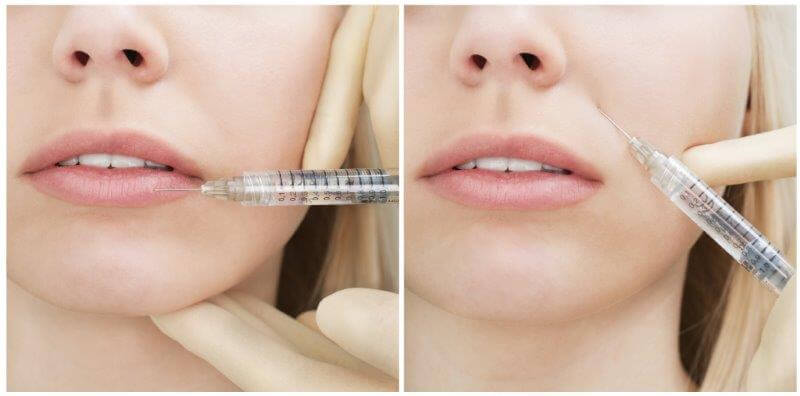 5. Porcelain inlays and tooth coloured fillings-Get rid or the unsightly amalgam (metal) fillings in your mouth and replace them safely with either porcelain inlays or tooth coloured fillings.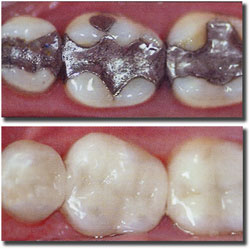 6. Tooth Replacement
Implants-If you have a missing tooth or a tooth requiring extraction we can replace it with a dental implant.  Implant offer a safe, effective and long term solution.  Implants look natural and perform as a natural tooth would.  An implant basically is a artificial tooth root that acts as a base for a new tooth.  They are made from titanium and they are completely bio compatible to the human body. have a look at our website for more info http://www.mendelsohndental.com.au/treatments/dental-implants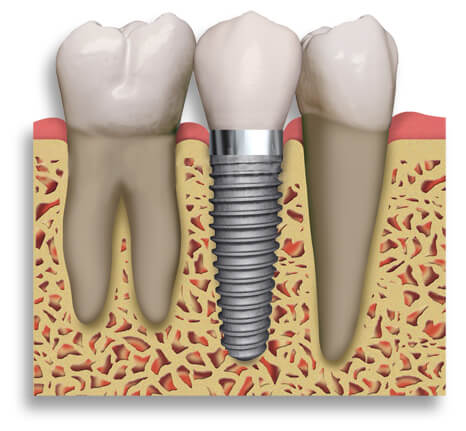 Bridges-A bridge is a fixed restoration attached to the teeth on either side of the missing tooth. There are various options available depending on the position of the missing tooth/teeth.  This is a great natural and long term solution.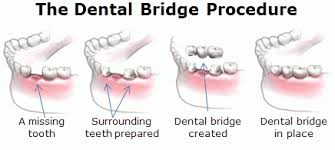 We also offer interest free payment plans so if your after a Beautiful Smile give us a call on 9225 6564 or book online at www.MendelsohnDental.com.au.
Preferred Providers with HBF, BUPA, gmf and Medibank.